Mario Guarneri, Founder and Artistic Director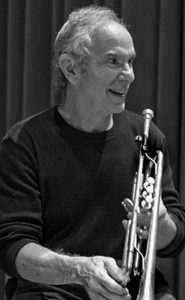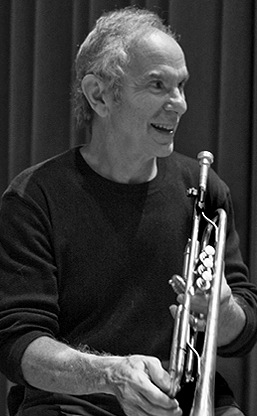 Mario Guarneri is a musician who has "done it all", from playing Dixieland jazz with Louis Armstrong at the age of thirteen to fifteen seasons with the Los Angeles Philharmonic under the batons of Zubin Mehta and Carlo Maria Giulini. He has toured Europe with the Los Angeles Brass Quintet and performed with the New York Philharmonic, the San Francisco Symphony, Radio City Music Hall and even the Barnum and Bailey Circus. Mr. Guarneri has recorded solo albums on the Crystal and Nonesuch labels, one of which was nominated for the Prix de Rome. For a decade, Mario was the principal trumpet with the Los Angeles Chamber Orchestra and has played on hundreds of TV and motion picture soundtracks, including solo performances on Lonesome Dove and Godfather III. He has taught trumpet for over 35 years, and is currently a trumpet instructor at the San Francisco Conservatory of Music. Guarneri also performs regularly with his jazz quartet in the San Francisco area, and has recorded four CDs. In 1986 he developed the Buzz Extension and Resistance Piece (B.E.R.P.) for all brass instruments, a dynamic advancement in brass pedagogy. Since then, he has lectured extensively on the BERP concept. In recent years, he has presented lectures at the International Trumpet Guild, the New York Brass Conference, and numerous state and regional music conventions across the country. Guarneri has taught master classes in Asia and Europe, and has established a worldwide reputation as a creative musician of the highest level. In addition to working tirelessly on a volunteer basis, Mario is also one Jazz in the Neighborhood's biggest financial supporters.
top
Erik Jekabson, Emerging Artist Coordinator
Erik Jekabson is a freelance trumpet player, composer, arranger and educator. He is equally busy playing and composing for different bands, leading his own groups, teaching a wide variety of students and running the Young Musicians Program at the California Jazz Conservatory.
He holds a Bachelor's Degree from the Oberlin Conservatory of Music and a Master's Degree from the San Francisco Conservatory of Music, is currently the director of the Young Musician's Program at the Jazzschool, and serves on the board of Jazz in the Neighborhood. He is on the faculty at the California Jazz Conservatory, Los Medanos College and Diablo Valley College, and has given clinics at Santa Rosa Junior College, Cal State East Bay and Loyola College in New Orleans. He's a regular instructor at Jazzcamp West, the Stanford Jazz Workshop, the Lafayette Summer Jazz Workshop and the Brubeck Institute, and has written two books of jazz duets for trumpet.
top
Craig Giudici, Volunteer Coordinator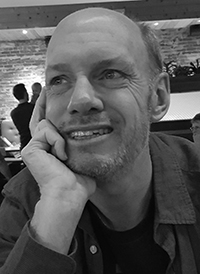 Coming to JITN with a background well outside of music and the arts, Craig brings the curiosity and interests of a lifelong, self-described music junkie. With music always playing in the background, Craig has worked in financial services, market research, dabbled in technology and more recently found his niche through volunteering or working directly with organizations such as SF/Marin Food Bank, Taproot.org, Friends of the Urban Forest, SF Animal Care & Control, SF Bike Kitchen, and now Jazz In The Neighborhood. For him, variety and that chance of first discovering the 'new thing' are what keep it all interesting. As with the organizations he's worked with, so it is with the music he regularly seeks out and listens to – finding connection and maintaining a variety matter. Craig's as likely to have Gil Evans or Kamasi Washington playing in the background as the Arctic Monkeys or Bryan Ferry. The unifying thread is the idea that artists and the worthy organizations supporting them matter and need community support. That community-artist connection needs to happen either through open-minded, enthusiastic audience support or through volunteers lending a hand in making things run smoothly. These days, you'll find Craig happily pitching in on both sides of the house.
top
Jan Woo, Finance Officer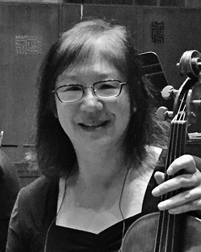 Jan, a former art librarian with degrees from U.C. Berkeley, has held positions at Columbia University, Parsons School of Design, the Brooklyn Museum, California College of Arts and Crafts, the New York Public Library, and Pacifica Radio. She served as vice-chair of Contra Costa County Library Commission and was on the boards of the Statewide California Electronic Library Consortium, Bay Area Library and Information Network, and Kensington Symphony Orchestra. In addition to her experience with strategic planning, she holds a certificate of achievement in advanced accounting.
Jan likes to fiddle around with bluegrass and plays a bit of jazz violin, too. She's whiled away many hours playing the likes of Purcell and Bach on her baroque-style viola and performs more modern works in various community orchestras. Always up for the unusual, Jan was a member of the Punk Rock Orchestra and has been spotted playing jazz standards on double-guitar steel drums.
Dominique Pelletey, Development Advisor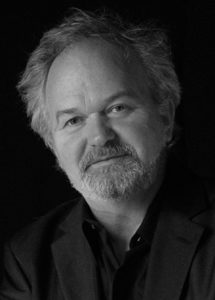 Dominique Pelletey has wide-ranging experience in executive, management, and artistic positions both in the United States and Europe. Since moving to the Bay Area in 1998, Mr. Pelletey has been PR and Marketing Manager at the San Francisco Community Music Center, the business manager for the Del Sol String Quartet, and most recently Executive Director for the San Francisco Friends of Chamber Music. He was a major force in creating SFFCM's Musical Grant Program and SFMusic Day (the much anticipated yearly music marathon). Pelletey's leadership and vision were recognized by Chamber Music America's 2010 Acclaim Award to SFFCM for having "been instrumental in fostering a vibrant environment for chamber music in the Bay Area."
Dominique began his professional career as Executive Director and Chairman of the Artistic Committee at W139, an independent artist-run organization, and later founded the multimedia arts space protonICA Amsterdam. His services have also been employed by the Dutch National Arts Foundation and the Netherlands Foundation for Visual Arts, Design and Architecture. Besides his dedication to the service of artists and musicians, Mr. Pelletey is an accomplished artist himself. He graduated summa cum laude from the Gerrit Rietveld Academy in Amsterdam, received over 15 awards and grants, has numerous publications, has taught photography and has exhibited his photography-based work in Holland, France, Germany, Portugal, Great Britain, Canada, and the United States.
top
Gabe Lee, Marketing and Media Coordinator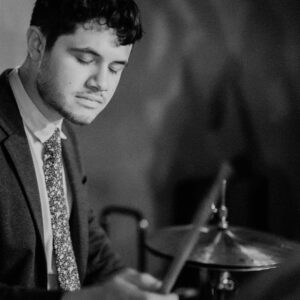 Gabe Lee is a jazz drummer based out of the Bay Area. Gabe developed his voice between influences from Brian Blade, Dave King, and Paul Motian while studying with Jason Lewis at San Jose State University. He is a member of the Arnie Co Nonet, and can be found on the upcoming live album In Our Backyard from the Inner Circle Jazz Orchestra. In addition to his career as a musician, Gabe works with Jazz in the Neighborhood and the Independent Musicians Alliance developing and overseeing programs such as the Safe Place to Play and the Directory of Performing Jazz Educators.